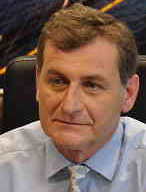 Education
1987 : BSc in Civil Engineering NTUA. Greece
1990 : MSc in Structural Engineering. University of Alberta. Canada
1995 : Ph.D. in Structural Engineering. University of Alberta. Canada
Professional Activity
1998 : Elected Associated Professor in the Civil Engineering department University of Alberta. Canada
1998 : Technical Director for the Design and Construction of the Rio-Antirion Bridge.
2004 : Works Manager of Ioannina Regional Office in the project of Egnatia Odos.
2009: President & Managing Director of the Rion-Antirion Bridge and Country Director of South-Eastern Europe in Vinci Concessions
2014 – present: CEO of Olympia Odos, the company in charge of the construction,
operation and maintenance of the toll motorway between Athens and Tsakona.
Awards
Has earned several awards throughout his scholarship and career years with the most recent being in 2006: The International Federation of Structural Concrete (fib), Award for Outstanding Concrete Structure, Rion-Antirion Bridge.