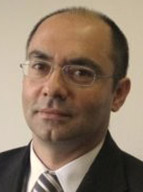 Dimitris Mandalozis
Chief Operations Officer, "Aegean Motorway S.A."
A graduate of the Democritus University of Thrace with a degree in Civil Engineering, he worked for several years as a civil engineer for large technical companies in the field of traffic/transportation management. He also served at the Municipality of Amarousion, first as a member of the design and operation team and then as a General Director of the Municipality of Amarousion Transport System.
From 2003 to August 2016, he held the position of the Project Manager for Attikes Diadromes (the Operations Company of Attiki Odos) coordinating all administrative functions, moving to the position of Strategic & Organizational Manager later on.
Since 2016, he is the Chief Operations Officer for Aegean Motorway S.A.
He is a member of the IRF GPC BoD/ExCom (International Road Federation – Geneva Program Center); he is an IEMA certified Climate Change Leader (Institute of Environmental Management & Assessment) and member of several international working groups such as IBTTA, European Commission – Mobility & Transport – Cooperative, connected and automated mobility (CCAM).