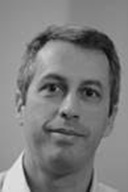 Benoit Le Bouille
Managing Director, "GEFYRA OPERATION S.A."
Born in 1975, Mr Benoit Le Bouille have a degree in chemical engineering from Ec ole de chimie de Lyon in France.
He joined the VINCI Group in 1999, holding a number of positions in Vinci Energy Division before joining Vinci Highways in 2009.
In Vinci Highways, he was in charge of managing the opening of the second section of the tunnel Duplex on the A86 motorway.
At the beginning of 2015, Benoit Le Bouille was appointed Managing Director and General Manager of GEFYRA LITOURGIA.
GEFYRA LITOURGIA is the company in charge of the operation of the Rion-Antirion Bridge.